Copper indoor drop wire (IDW)
Quality standards:
REA – PE 89 (USA), TCVN 8697:2011, IEC 60708
Feature
Copper indoor drop wire (IDW) is designed for use in extending telephone service to subscriber premises from the distribution cable or cable terminal. Outer sheath is extruded by polyvinyl chloride (PVC) natural colour or low smoking zero helogen (LSZH) natural colour and produced for aerial indoor installation (in in buildings, offices, trade centers,..)
Description
Up to 02 pairs following REA – PE 89 (USA), TCVN 8697:2011, IEC 60708
Conductor size: 0.5mm; 0.65mm
Color of conductor insulation: white – blue or white – orange or request follow customer
Copper inside drop wire (IDW) type is designed by solid pure annealed copper conductor, high density polyethylene foam skin or solid (Skin) insulated
Contact us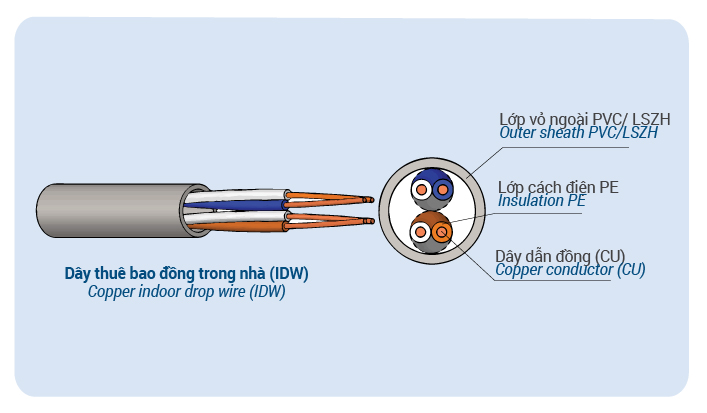 Technical specification
I. Electrical and transmission characteristics
1. Conductor resistance at 200C

2. Insulation resistance at 200C
The insulation resistance shall not be less than 10000 MW/km at 20°C.
 3. Dielectric withstand voltage

4. Mutual capacitance

5. Transmission attenuation

II. Mechanical characteristic