Copper telecommunication inside cable (CCP-LAP)
Feature
Copper telecommunication inside cables (CCP-LAP) type are used for primary and secondary distribution networks, (i.e., in the secondary network between cross-connection cabinets and the subscribers' connections, in the primary network between the exchange and cross-connection cabinets) and produced for ducted underground installation with natural polyvinyl chloride (PVC) sheath it is suitable for tropical environmental conditions (from -10 °C to +60 °C ambient).
Description
Up to 100 pairs following REA – PE 89 (USA), TCVN 8238:2009.
Conductor size: 0.4mm; 0.5mm; 0.65mm; 0.9mm.
Copper telecommunication inside cables type is designed by solid pure annealed copper conductor, high density polyethylene insulated, paired, ten or twenty-five pairs sub-unit type, polyester tape wrapped (PS tape), screened with aluminum moisture barrier and natural PVC sheathed, indoor type, primary and secondary local telephone cable.
Contact us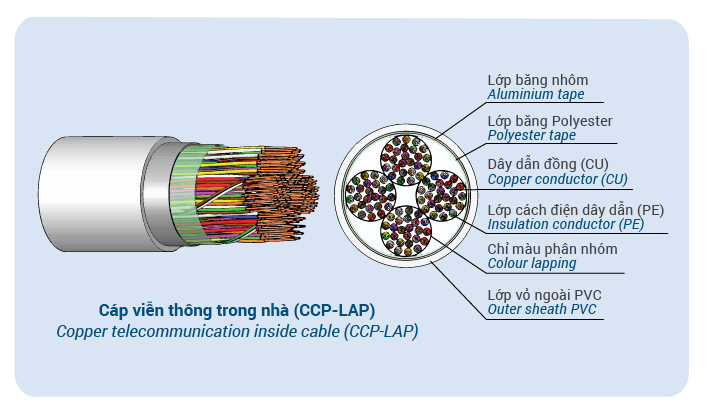 Technical specification
I. Electrical and transmission characteristics
1. Conductor resistance at 200C

2. Insulation resistance at 200C
The insulation resistance shall not be less than 500 MW/km. at 20°C
3. Dielectric withstand voltage

4. Mutual capacitance

5. Capacitance unbalance at 1000 ± 200 Hz

6. Transmission attenuation

II. Mechanical characteristic